5 dagars paddlingsäventyr genom Bohuslän/5 days kayak excursion in the Swedish arcipelago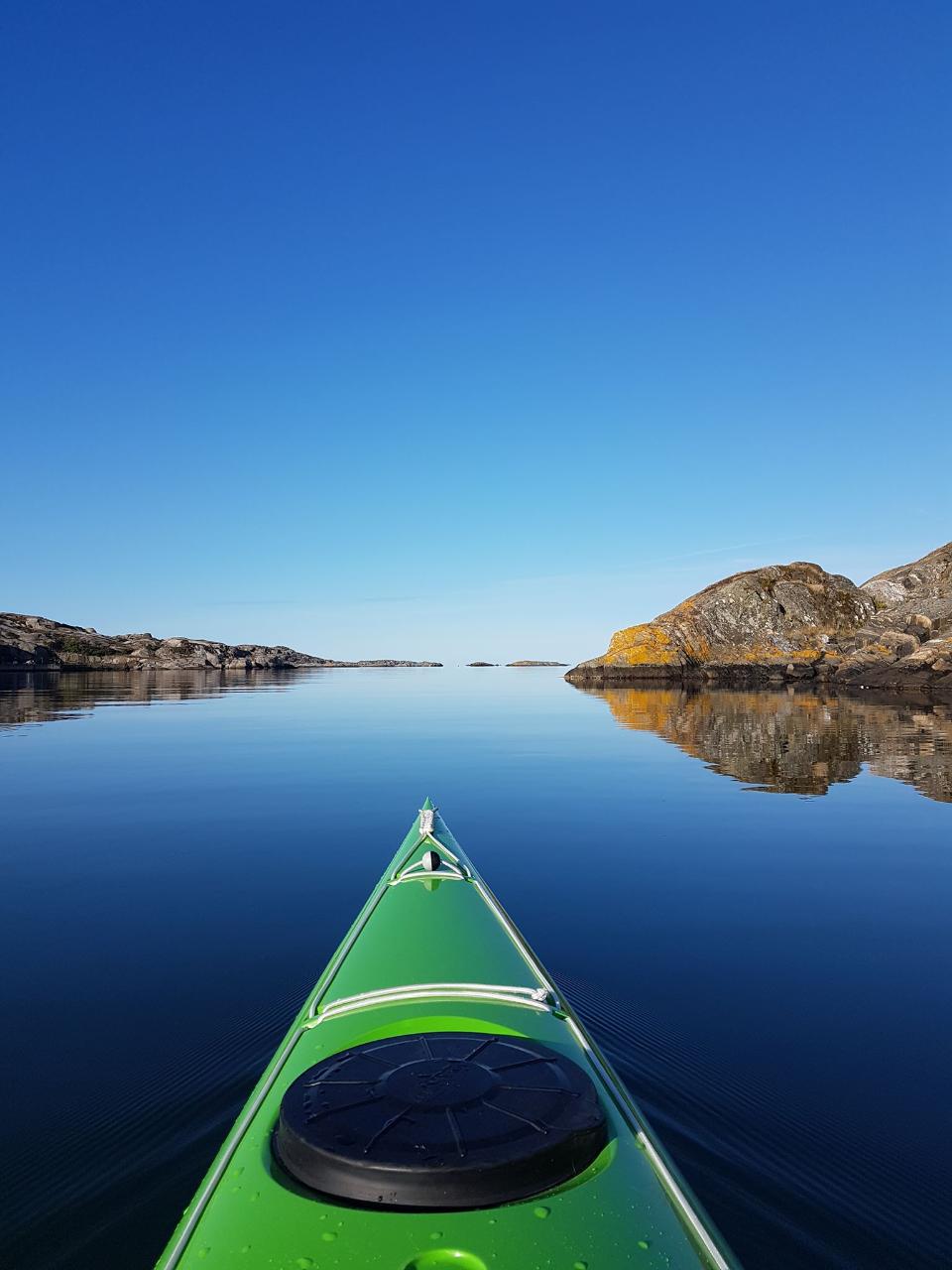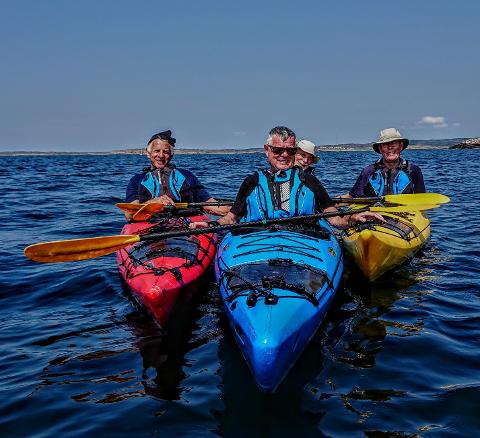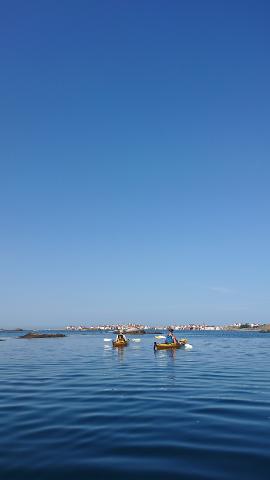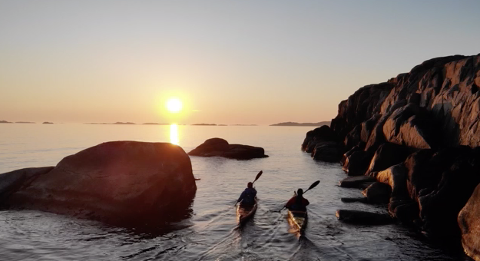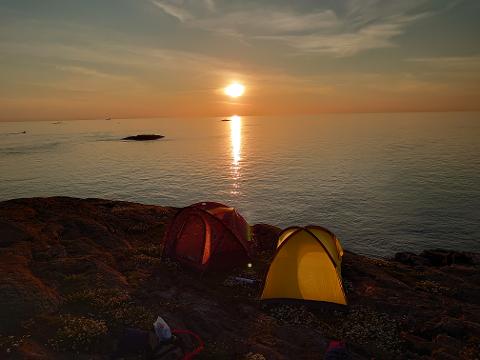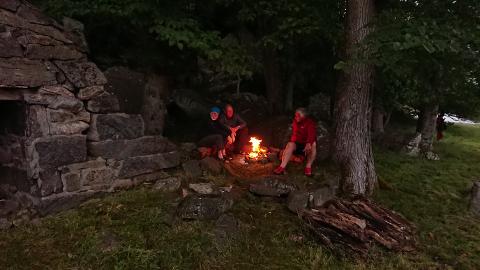 Duration: 5 Days (approx.)
Location: Bleket,Tjörn, Bohuslän
Product code: PRDMGX
(ENGLISH further down)
Njut av upplevelser medans vi försiktigt glider genom Tjörns vackra natur. Under hela 5 dagar paddlar ni längst de traditionella fiskebyarna och utforskar de grunda sunden dit endast en kajak når. På någon av de hundratals öarna väljer vi lägerplats för natten, går på en upptäcksfärd eller tar ett svalkande dopp. Vi mixar övernattningarna så att ni varannan natt bor på ett trevligt boende i någon av de charmiga fiskebyar vi passerar.
ERFARENHET
Vi rekommenderar att ni har paddlat innan eller har motsvarande vår introkurs.
Ett krav är att man ska kunna simma minst 200 meter.
Vi reserverar oss för dåligt väder/storm el kuling då rutten kan komma att ändras pga säkerhet för våra gäster.
Vi checkar alltid väderprognos 3 dagar innan avfärd och meddelar isf om förändringar är nödvändiga.
.
VAD INGÅR

1 Guide hela utfärden natur/kultur/Glädje
1 Kajak,flytväst,paddel,kapell
Tält,sovsäck, liggunderlag
Första hjälpen
Campingkök,bestick, kniv,vatten etc
Snacks,Frukost,lunch, middag (Ej middag dag 1,3,5)

3 övernattningar på hotell/B&B inkl frukost
TIDSÅTGÅNG
Genomgång - paddling - hemkomst & rengöring av kajaker
5 dygn
Dag 1
Vi hämtar på Landvetter flygplats.
Incheckning på Hotell/B&B med frukost i dubbelrum.
middag ej inkluderad 1a natten
Dag 2
Frukost och utcheckning
Vi hämtar upp er för färd till Kajakcentret
Förberedelse och genomgång av kajakäventyret
Kajakupplevelse och paddling med destination camping ö
Framme vid kvällsläger,resa tält,middag och lägereld
Dag 3
God morgon och frukost
Riva läger och packa kajaker
Paddling och upptäcktsresa genom skärgården.
Ankomst till boende i fiskeläge i bohuslän
Egen tid som tillbringas med promenad och avkoppling
Dag 4
Frukost och utcheckning
Förberedelse och paddling ut genom sund och öar
Ankomst till camping ö i bohusläns vackra skärgård
Sätta upp tält, gå på upptäcktsfärd och middag
Dag 5
God morgon och Frukost
Vi packar ihop lägret för sista gången och förbereder dagens paddling.
Paddling,bad och njutning tillbaks till kajakcentret.
Tillbaka på Kajaktiv tjörn,uppackning, färd till hotell/B&B.
Egen tid för avkoppling, umgänge och lite reflektion
Dag 6
God morgon, frukost och utcheckning
Transport tillbaks till Landvetter flygplats el Centralen i Göteborg
ANTAL DELTAGARE
Min 2 pers

Max 4 pers
PRIS
6 dagar - 11900 sek/person


ENGLISH
Enjoy the breeze from the ocean while you carefully slide through the beautiful arcipelago of Tjörn. For a total of 5 days you paddle the most traditional fishing villages and explore the shallow bays where only a kayak reaches. On one of the hundreds of islands you choose a campsite for the night, go on a discovery or take a swim in the ocean.
EXPERIENCE
We recommend that you have paddled before or experience equivalent to our beginners course.
One requirement is to be able to swim at least 200 meters.
Due to bad weather conditions (stormy weather) the route may change
and we will reschedule the trip for safety reasons, that will in that case be decided
WHAT IS INCLUDED
1 Guide the entire trip incl nature/cultural/happy guiding =)
1 kayak,paddle,lifevest,spreyskirt,map
Tents,sleeping bags, mattresses, first aid kit
Gazkitchen,cuttlery, knife,water etc
Snacks,Breakfast,lunch, dinner (No dinner Day 1,3,5)
3 nights in hotel/B&B incl breakfast
EXPENDITURE OF TIME
Review - paddling - homecoming & cleaning of kayaks
6 days
Day 1
Arriving at Landvetter airport (we will turn up at the airport ).
Check in at Hotel/B&B 1 night in a double room incl breakfast.
The dinner at hotels are not incl in the price
Day 2
Breakfast and checkout
Pick you up at hotel trip to Kajaktiv Tjörn.
Prepare the kayaks,loading,go trough the trip of the day
Kayak paddle and lunch on a remote island
Prepair Camping/ dinner around campfire
Day 3
Wake up and breakfast
Kayak paddle and lunch trough out the archipelago.
Arrival at a fishing village in Bohuslän.
Checkin Hotel/B&B
Freetime for you (rec strolling and dinner at a nice restaurant).
Day 4
Breakfast and checkout
We leave Island for a day of Kayaking/lunch and adventure
Arrival and Camping/dinner on a remote island in the bohuslan arcipelago
Day 5
Wake up and breakfast
Last day of kayaking/Lunch on our way back to the kayak center.
Transport and Check in at hotel/B&B in double room.
Freetime for you.
Day 6
Wake up, breakfast and check out.
Transport back to Landvetter Airport/central station in Gothenburg

NUMBER OF PARTICIPANT
Min 2
Max 4
PRICE
6 days - 11900 sek / person