Självguidad kajaktur 3 dagar/Selfguided kayaktour 3 days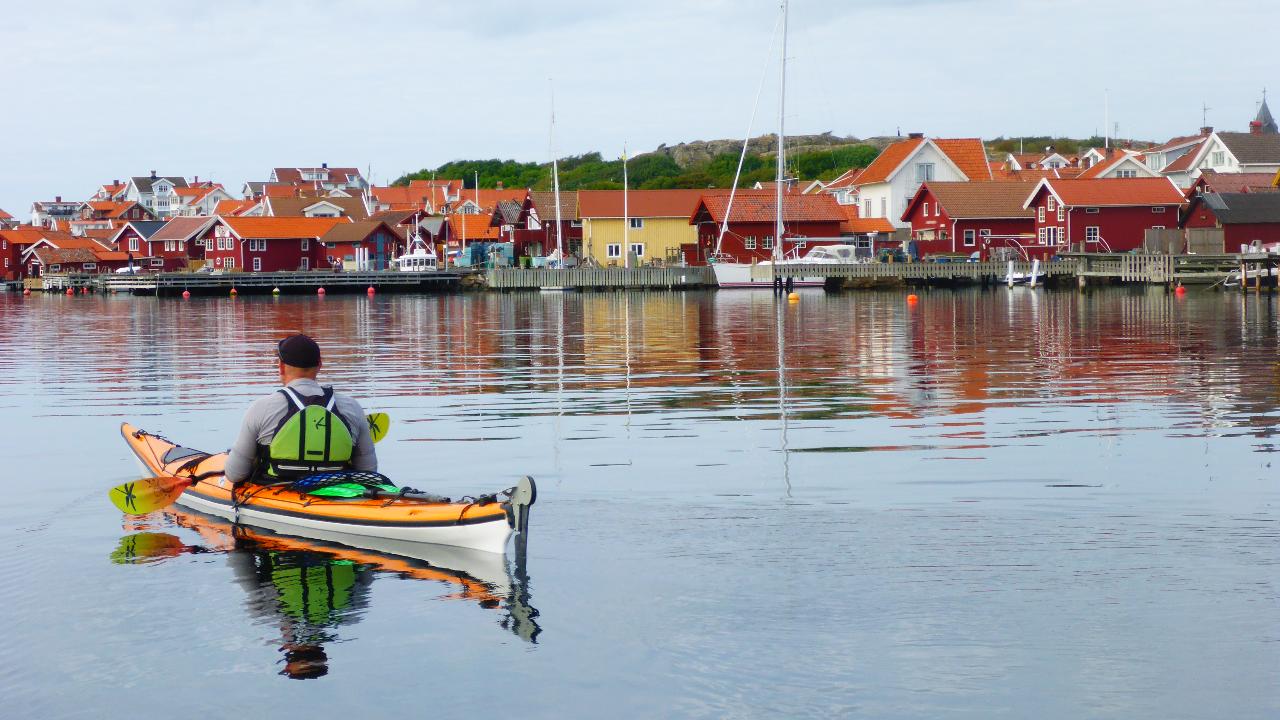 Duration: 3 Days (approx.)
Location: Bleket,Tjörn, Bohuslän
Product code: PKLY0A
Njut av de salta vindarna medan vi försiktigt glider genom Tjörns vackra natur. Under hela 3 dagar paddlar ni längst detraditionella fiskebyarna och utforskar de grunda sunden dit endast en kajak når. På någon av de hundratals öarna väljer ni lägerplats för natten, går på en upptäcksfärd eller tar ett svalkande dopp.
ERFARENHET
Vi rekommenderar att ni har paddlat innan eller motsvarande vår introkurs. Känner ni er osäkra kan ni hyra en guide de 3 första timmarna som ger er värdefulla tips och grunder.
Ett krav är att man ska kunna simma minst 200 meter.
VAD INGÅR

Genomgång & info
Kajak & paddel
Kapell & flytväst
Vattentät bag
Bogserlina
Pump & flottör
Karta & kompass
OBS ! Om ni vill att vi hämtar er med bil+släp på en plats överenskommen plats, när hyrestiden närmar sig sitt slut, tillkommer en transportkostnad på 1000 kr på Tjörn.

TIDSÅTGÅNG
Genomgång - paddling - hemkomst & rengöring av kajaker
3 dygn (Dag 1 09.00- Dag 4 09.00 alt 17.30 - 17.30)

PRIS
Baspaket 3 dagar - 1900 sek/person


ENGLISH
Enjoy the breeze from the ocean while you carefully slide through the beautiful arcipelago of Tjörn. For a total of 3 days you paddle the most traditional fishing villages and explore the shallow bays where only a kayak reaches. On one of the hundreds of islands you choose a campsite for the night, go on a discovery or take a swim in the ocean.
EXPERIENCE
We recommend that you have paddled before or experience equivalent to our beginners course. If you feel unsafe you can hire a guide the first 3 hours that will give you valuable tips and basics.
One requirement is to be able to swim at least 200 meters.
WHAT IS INCLUDED
Review & info
Kayak & paddle
Waterproof bag
Towing line
Pump & paddlefloat
Spreyskirt & life vest
Map & compass
Note ! If you want us to pick you up with the car+kayaktrailer on a agreed location when the renting period is over, there is an additional cost of 1000 SEK within Tjörn Island.

EXPENDITURE OF TIME
Review - paddling - homecoming & cleaning of kayaks
3 days (Day 1 9am - Day 4 9am or 5.30pm to 5.30pm)
PRICE
Basic package 3 days - 1900 sek / person