2 dagars i världens vackraste skärgård/2 days kayaking in the beautiful swedish arcipelago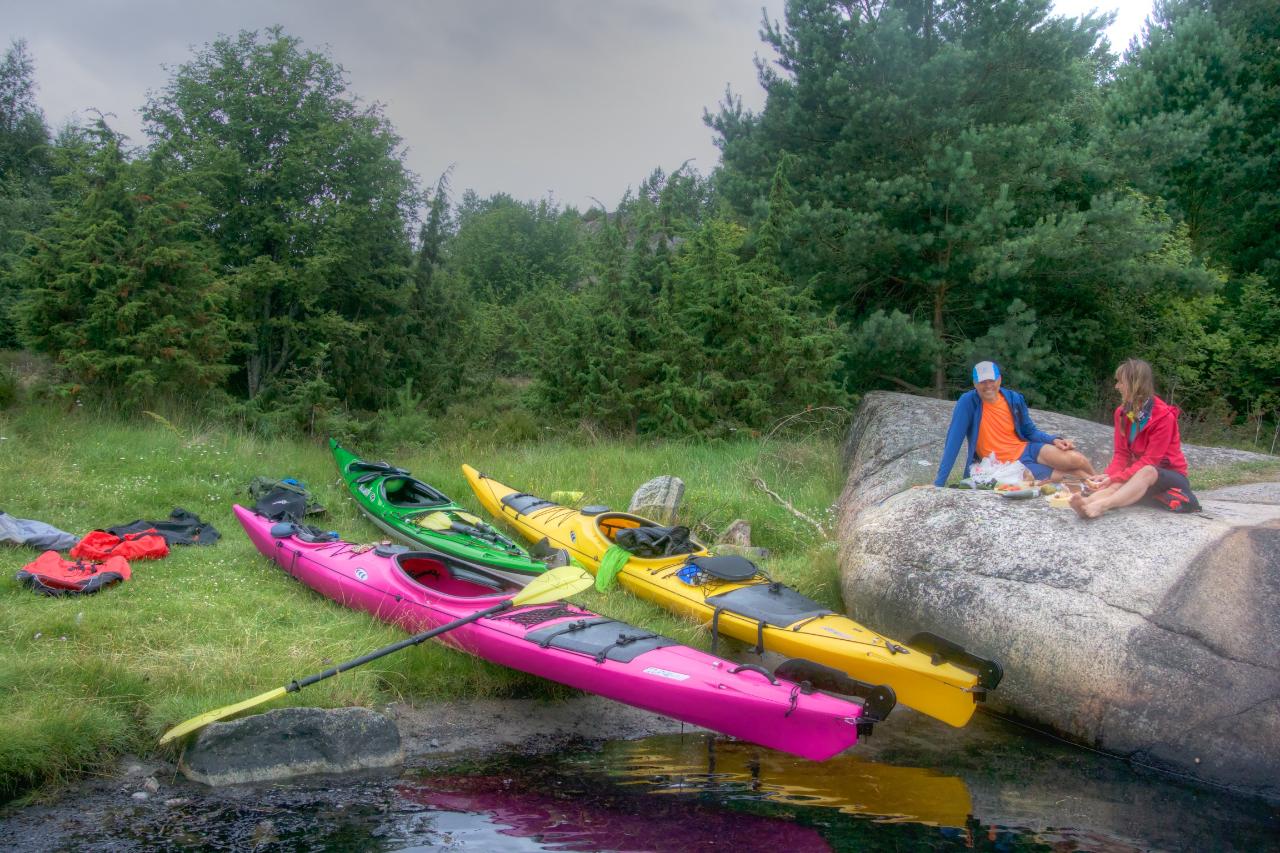 Duration: 30 Hours (approx.)
Location: Bleket,Tjörn, Bohuslän
Product code: PRW76E
Efter en dag på havet slår vi läger vid lämplig plats beroende på väder. Efter att lägerplatsen är iordningställd kan man ge sig ut på en upptäcksfärd över ön eller bara ligga och koppla av eller ta ett dopp i havet. När kvällen närmar sig fixar vi middag, gör upp en eld och njuter av stillheten och lugnet. Garanti att sömnen blir god.
ERFARENHET
Ingen paddlingserfarenhet krävs. Vi rekommenderar dig som inte paddlat så mycket innan att välja en dubbelkajak.
Ett krav är att man ska kunna simma minst 200 meter.
VAD INGÅR
Kajak & paddel
Kapell & flytväst
Tält, sovsäck
Förnödenheter
Guide
Måltider
TIDSÅTGÅNG
Genomgång av turen – 2 dagars paddling – hemkomst & rengöring av kajaker
1 1/2 dag (10.00 dag 1 – 16.00 dag 2)
ANTAL PERSONER
Min 2 personer bokade på turen
Max 8 personer bokade på turen
Om ni är 1 person ring el mejla oss så kan vi hjälpa er.
PRIS
1 1/2 dag – 2995 sek/person
Experience the Bohuslän archipelago during two days sea kayaking in amazing paddle water, explore the shallow straits where only a kayak reaches. After a day at the sea, we will camp in appropriate location depending on weather. After the campsite has been prepared, you can go out on a discovery across the island or just hang and relax or take a dip in the ocean. When the evening is nearing we fix dinner, make a fire and enjoy the silence and tranquility. Guarantee that sleep will be good.
EXPERIENCE

No padding experience is required. If you haven't got a lot of kayaking experience we recommend that you choose a double kayak.
One requirement is to be able to swim at least 200 meters.
WHAT IS INCLUDED
Kayak & paddle
Spreyskirt & life vest
Tent, sleeping bag
Necessities
Guide
meals
EXPENDITURE OF TIME
Review of the trip - 2 days paddling - return and cleaning of kayaks
1 1/2 day (10am day 1 - 4pm day 2)
NUMBER OF PEOPLE
Min 2 people booked the trip
Max 8 persons booked on the trip
If you are a single person please mail or call us and we will assist you.

PRICE
1 1/2 day - 2995 SEK / person